Our Platinum VISA cards offer...
Credit Lines can be as low as $250
No Annual Fee - You could save up to $45 over other credit cards.
Low Everyday Rates - Save over other bank and store cards with a rate well below the national average.
25-Day Interest-Free Grace Period On Purchases - You have a minimum of 25 days without a finance charge on new purchases if you pay the total "new balance" on your monthly statement each month by the due date.
No Cash Advance Or ATM Fees** - You can get advances 24-hours a day, with no SeaComm fee, from any ATM displaying the VISA logo.
Free Travel Accident Insurance Coverage - When you charge tickets on any common carrier (airline, train, ship, or bus), you're automatically covered for up to $1,000,000 with Visa Platinum Points.
Additional Services - Emergency card replacement, cash advances up to $300 per day at any ATM, the benefits of extensive VISA travel services and optional insurance for auto rental damages.
Lost or stolen credit cards - If you need to report a lost or stolen credit card after our normal business hours, please call (800) 325-3678. For lost or stolen debit cards, please call (800) 500-1044.
Get online access to your SeaComm Visa® Platinum account with eZCardinfo.com!

Sign in and you'll be able to:
Analyze your spending
Review your statements
Pay bills online
Set customized real-time alerts
Visa Access
Visa Platinum
Points
Get more out of your SeaComm Visa Platinum with our ScoreCard Rewards Program! Earn one point for each dollar you charge on your card and once you've accrued enough points, you can redeem them for travel services, quality merchandise, cash back & so much more!*
Premium Payback
Don't want to keep an eye on your points? Opt-in to our ScoreCard Rewards Premium Payback program and redeem your points right at the point of sale, virtually anywhere. Just make a qualifying purchase at a participating location and you'll promptly receive a text message or email asking if you want to redeem your points to cover your purchase.
Enroll in our ScoreCard Rewards program today!
Sign up for FREE at scorecardrewards.com and start getting rewarded.
Need to
dispute a charge
on your SeaComm Visa® Credit Card?
Claims can be made 24 hours a day, 7 days a week by calling our self-serve dispute line at (800) 600-5249. Members can dispute up to three posted fraudulent transactions using the automated system. If you have more than three disputes, you can speak with an agent during the business hours of Monday-Friday from 8:00am until 8:45pm and Saturday from 9:00am to 2:45pm.
(800) 600-5249
As always, if you prefer to speak with a SeaComm representative we will be happy to assist you with disputes during our normal business hours.

Visa Secure Remote Commerce is the easy way to enjoy added security for all your online Visa card purchases.
Learn More
Click here for more information on our security program and fraud monitoring.
*Cash advances and VISA checks are not card purchases.
** Some institutions may charge you if you use their ATM. Avoid these surcharges by not using these machines. ATMs must be identified with signs or screens disclosing surcharges.
A copy of your credit card agreement can be made available to you by contacting 800-764-0566.
EMV TravelMoney® Cards
The Perfect Travel Companion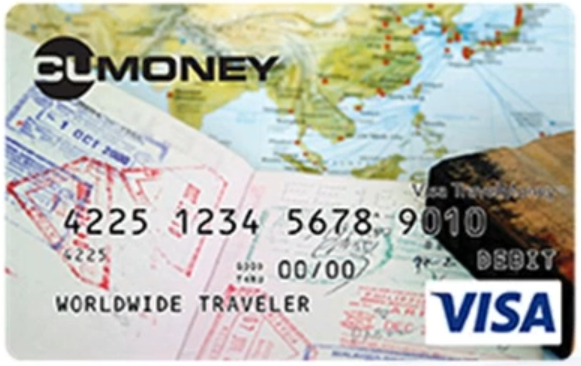 Wherever you go and whatever you need, your prepaid CUMONEY® Visa EMV TravelMoney® card is here for you. This reloadable card provides a safe and convenient way to travel, as it's not tied to your checking or savings account and allows you to go cash-free.
Cards can be reloaded with any amount from $10 to 5,000.*
No monthly maintenance fee.
Use anywhere Visa debit cards are accepted worldwide.
Access US currency or foreign local currency at ATMs all over the globe.
Manage Your Visa EMV TravelMoney® Card Online
The CUMONEY online management tool allows you to track your spending, view your balance, and reload your card with funds from your checking or savings account.
CUMONEY® Online Access
Prefer to manage your card account on your mobile device? Download the CUMONEY® Mobile app from Google Play or the App Store!
Protection and Security
Enjoy all of the protection and security features you've come to expect from Visa. The CUMONEY® Visa EMV TravelMoney® card comes with Zero Liability Protection for your security. In addition, each registered card also includes 90-day purchase protection, travel and emergency assistance and lost luggage reimbursement to give you peace of mind while you're away.
* The TravelMoney® initial card fee is $9.95 and the reloads are $2.00 each.
Gift Cards
The Sure To Please Gift For Any Occasion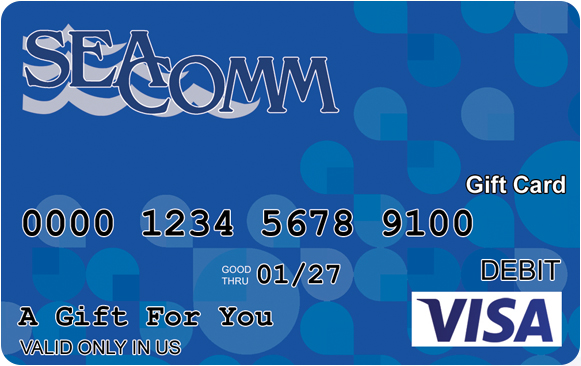 Stop worrying about which toy all the kids are asking for, what neck size your brother-in-law prefers, or the name of your sister's favorite place to shop. Prepaid SeaComm Visa Gift Cards are just right for everyone on your list.
Enjoy Convenience, Flexibility and Choice
Cards can be loaded with any amount from $10 to $500.*
More flexible than merchant gift cards.
Use anywhere Visa debit cards are accepted, worldwide.
Save Yourself Some Time and Stress, Give A Visa Gift Card
The ideal solution for any occasion ranging from birthdays, baby showers, holidays, weddings, graduations, or just because.
* The Visa gift card fee is $5.00 and the card cannot be reloaded or unloaded.
To purchase a SeaComm Visa Gift Card or CUMONEY® Visa EMV TravelMoney® Card, visit any of our branch locations and ask to speak to a Financial Service Representative.