Flexible Investments with SeaComm
SeaComm understands that members have different savings needs. Some prefer short-term maturity with investment flexibility while others prefer to deposit their funds for a longer term to optimize dividends. SeaComm's Certificates provide an excellent way to maximize dividends while investing funds for a fixed period of time.
You can select a SeaComm Certificate with the rate and term that will meet your individual needs and earn a competitive dividend rate. A SeaComm Certificate allows you to invest the dividends earned during the term of the certificate - so you actually earn dividends on your dividends. Or, if you prefer, you may choose to have the dividends transferred to your savings account on a monthly basis or at maturity.
Certificate Facts
Dividends are calculated daily and credited monthly based on your daily balance.
Youth Saver Certificates are available for younger members aged 17 or under
A SeaComm Certificate may be opened in minutes at any branch or by calling a Member Services Representative at 1-800-764-0566. SeaComm mails you a maturity notice when your certificate is about to mature and can automatically renew your current certificate at the dividend rate in effect at renewal. There is no need to worry about new paperwork or signatures. Everything is completed for you.
You may be eligible to increase your rate using our Enhanced Loyalty Rewards Program as defined below.
All SeaComm deposit accounts are federally insured to at least $250,000 by the National Credit Union Administration (NCUA), a U.S. Government Agency.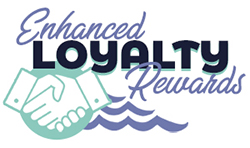 Our Enhanced Loyalty Rewards Program is designed to benefit YOU.
Receive additional basis points on Share Certificates and IRAs by meeting certain criteria. Rewards are based on services used and length of membership. All veterans also earn an additional 15 basis points.
See our Basic Rewards and Basic Rewards PLUS criteria below to see what rewards you qualify for and how your rate can increase!
Our Basic Rewards Program applies to all Share Certificates and IRAs. If you meet all of the following criteria, add...
6 months or longer membership
Share draft account
Direct deposit
Active debit card holder
30 Basis Points
Our Basic Rewards PLUS Program applies to all 12-60 month share certificates and all IRAs. If you meet all of the following criteria, add...
Meet all of the Basic Rewards
30 Basis Points
---
One year membership
One loan product- Visa, Auto, Signature, RV (must be an existing loan of 6 months or greater)
30 Basis Points
---
Additional Rewards:
Available on 12-60 month share certificates and all IRAs. MUST meet all Basic Rewards Plus requirements to qualify. If all is met, you may earn the following...
Enrolled in eStatements
Member for 5-9 years
10 Basis Points
---
CD renewal/rollover
Transfer from MMK to CD
Two or more loan products

(must be an existing loan for 6 months or greater)

Veteran
10+ years as a member

*Length of Membership: The 10 + year basis point increase of .15 will not be granted in conjunction with the 5-9 year reward of .10 basis points.
15 Basis Points
---
Mortgage or Home Equity Line of Credit
Business Loan Relationship

($50K+)
25 Basis Points