SeaComm Advisor Text Version
SeaComm Advisor Newsletter
Spring/Summer Edition 2020
Cover Page
The Advisor
Issue highlights:
South Burlington Staff Introduction
President's Report
New Features
Community Support
Quarterly Business Recap
Annual Meeting
Grand Opening in South Burlington, Vermont
Page 2
South Burlington Grand Opening!
We recently celebrated the official grand opening of our new South Burlington branch location with a ribbon-cutting ceremony and celebratory event on Thursday, January 23, 2020. The South Burlington branch finalized construction at 1680 Shelburne Road, and was open to the public on January 21, 2020.
"We are delighted to be a part of the greater South Burlington community, and that our new location at 1680 Shelburne Road will give us access to a highly visible, ever-expanded retail location," states Scott A. Wilson, SeaComm President and Chief Executive Officer. "The City of South Burington was very supportive of our new building project throughout the planning and construction phase." Wilson adds, "We have been pleased with our reception so far into the market and the opportunity afforded to us by Pizzagalli Properties. We look forward to meeting our Vermont neighbors and the opportunity to serve in this new market, and be an intricate partner in this vibrant community."
SeaComm's South Burlington location is a 3,500-square-foot branch that offers an array of services for all financial needs. The new branch includes a three-lane drive-through area, a 24/7 ActiveEdge® ATM that offers cutting-edge security solutions, electronic cash recyclers at the teller stations, and even a bicycle stand for those who wish to cycle to the branch. Members and visitors are greeted by a Financial Service Assistant at the front desk, who will give personal guidance to their needs. The lobby has a comfortably furnished waiting area, equipped with a fully stocked refrigerator, complimentary snacks, and a flat screen television. Personal tablets take the place of paper brochures which helps to minimize SeaComm's carbon footprint. Construction of the branch was also completed with awareness to environmentally friendly materials.
Branch Manager Matt Sjoblom joined the SeaComm team in December 2019, specifically hired for this position. A native of Essex, he brings six years of management experience to SeaComm. "I look forward to providing exceptional service and meeting the financial goals of our members in South Burlington and surrounding areas," Sjoblom said. "I'm excited to welcome new members, and invest in this vibrant growing community."
---
Introducing... the South Burlington team!
Matthew Sjoblom - Branch Manager
Allison Fuller - Senior Teller
Ashley White - Financial Service Representative
John Kerr - Financial Service Representative
William Mount - Indirect Lending Officer
Page 3
New Feature! LoanEngine™
The ultimate member borrowing experience, right from the comfort of your home.
SeaComm members now have the borrowing power they have earned! LoanEngine™ is a loan pre-approval program that allows our members the ability to view and accept loan offers without having to come into a branch or fill out an application!
Every 60 days, qualified members may receive prescreened offerings on up to 7 loan products, including:
New & Used Auto
Auto Refinance
Visa® Platinum Credit Cards
Small RV
Consolidation Loans; and/or
Personal Loans
Members have the ability to access, review and accept multiple offers at any time… anywhere. If you qualify for a pre-approved offer, you'll be presented with it through the SeaComm Mobile 4.0 app, NetTeller™, email, and/or a letter through the mail. You'll have the ability to accept it immediately by following the prompts on the offer, or by calling into our call center at (800) 764-0566.
Best of all ...you won't even need to fill out an application OR come into a branch!
*Rates on pre-screened offers are based on your FICO score and full member rewards. Rates quoted are subject to change.
---
2020 Homebuyer Dream Program™
We're excited to partner with the Federal Home Loan Bank in offering down payment and closing cost assistance of up to $14,500 to qualified homebuyers! The Homebuyer Dream Program™ is a grant that makes funds available to first-time homebuyers earning at or below 80% of the Area Median Income.
If you haven't been able to save for a down payment or don't have enough set aside to purchase the home of your dreams, this is the perfect opportunity for you! The first round of the Homebuyer Dream Program™ will be open in May 2020. There will be at least four offerings throughout the spring and summer!
Are you interested in learning more about the program?
We encourage all first-time homebuyers looking to purchase in New York to stop in and meet with one of SeaComm's experienced mortgage officers to discuss the requirements of the Homebuyer Dream Program™ to see if you qualify for assistance.
Call today to make your appointment (800-764-0566) or visit us online at www.seacomm.org.
Find the home of your dreams!
Page 4
Puzzle Zone
Question:
A baseball bat and a ball cost $1.10 together... and the bat costs $1.00 more than the ball. How much does the ball cost?
Answer: 5 cents!
---
I've decided to sell my Hoover...
...well, well it was just collecting dust!
---
Benefits Plus® Checking account with perks.
Travel discounts, health & wellness savings, consumer services, and so much more!
First 3 Months FREE!
*Offer ends April 30, 2020
Your benefits your way.
(800) 764-0566
SeaComm Federal Credit Union has selected Generations Gold, Inc., to offer travel and other discounted services on an exclusive basis directly to Benefits Plus® members. All liabilities, claims, damages, and demands are the sole and direct responsibility of Generations Gold, Inc., and its independent service or benefits providers. Discounts received through Benefits Plus® may not be used in conjunction with any other discounts. Benefits and services available through the program are subject to change without notice. For complete program information, terms, conditions and exclusions pleasevisit www.benefits-plus.org or call 866-329-7587. *This offer, which is made to you by SeaComm, entitles you access to the Benefits Plus® services for a period of ninety (90) days from the moment that you activate such trial period. By enrolling in this offer, you accept the 90-Days Free Trial Offer and consent to the regular monthly charge following the Free Trial Period. The monthly fee will be charged as set forth in our fee schedule, which can be viewed at www.seacomm.org. If you decide that you do not want to become a paying user of Benefits Plus®, you must terminate your membership before the end of the Free Trial Period. Offer valid through 4/30/20.
Page 5
Pay-it-Forward Program
SeaComm has continued its efforts with the highly-successful Pay-it-Forward program! This innovative campaign of giving was created in 2017, and has enabled SeaComm employees to surprise thousands of local residents with random acts of kindness. If you receive a random act of kindness from SeaComm, we do not ask for anything in return...only that you "pay it forward" and bestow the same kindness to another individual.
Recently, the credit union purchased 100 all-day tubing passes at Titus Mountain, and donated them back to the community. Local families enjoyed a full day of winter fun on the tubing hill, compliments of SeaComm! This event was announced in advance on social media, which allowed local families plenty of time to plan accordingly.
In the last year, this ongoing initiative has allowed SeaComm to sponsor the adoption costs for homeless pets, purchase school supplies for an entire school district, supply Ben & Jerry's "SeaComm S'mores" ice cream to over 500 individuals, provide free admission for unsuspecting moviegoers, and surprise hundreds of local residents with prepaid gift cards, just to name a few.
The Pay-it-Forward Program has had an incredible impact throughout the communities we serve. Over the last two years, SeaComm's efforts have been recognized by the Marketing Association of Credit Unions (M.A.C), New York Credit Union Association, and the CUNA Marketing & Business Development Council. The accolades include: Dora Maxwell Award for Social Responsibility in 2018; Third Place "Bronze" M.A.C Award for Community Engagement in 2018; First Place "Gold" M.A.C Award for Community Engagement in 2019, and most recently the 2020 Diamond Award in the Ongoing Event category.
---
truSTAGE®
Building Financial Security for Our Members...
For more than 80 years, the people and companies behind TruStage have strived to carry on the vision of their founders: Offer straightforward insurance backed by a strong company, while making it easy to afford. As a SeaComm member... Trustage Insurance is available to you!
Auto: Drive with confidence...protect your vehicle with help from Trustage. You could save hundreds on car insurance, and it's easy to switch. Get a quote to cover your: car, motorcycle, boat or watercraft, ATV, or recreational vehicle (RV).
Home Owners Insurance: Help safeguard your home - and everything in it. It covers you against losses or damage from fire, weather, theft and more. And it protects you from liability if an accident happens on your property. Available when you need it, with 24/7 claims service.
Life: Life insurance could help give you peace of mind today and provide income-tax free money for your family if you die. It could ease the burden of expenses you might leave behind like funeral costs, mortgage payments or unpaid debts.
AD&D: Accidental Death & Dismemberment (AD&D) insurance is straightforward, affordable insurance that can help protect you and your family when the unexpected happens. Unlike life insurance, it covers you in the event of an injury that results from an accident. AD&D can be a helpful safeguard against the burden of costs associated with injury or death from an accident by providing you and your family with funds when you need them most.
Founded on more than eight decades of serving millions of customers, Trustage focuses on the things that matter - help, guidance, service and claims.
It pays to be a SeaComm member! Trustage is helping members and their families get the most value out of their financial services...with special discounts on car insurance, No-Cost AD&D Insurance, and more! Call 1-855-574-7317 or visit www.trustage.com.
Page 6
Annual Meeting
May 19, 2020 at 7:00 p.m.
The Annual Meeting of the members of SeaComm Federal Credit Union will be held on Tuesday, May 19, 2020 at 7:00 p.m. The meeting location will be at SeaComm's headquarters, 30 Stearns Street, Massena, NY. As is customary, Finance, Directors, Supervisory Committee and President and Chief Executive Officer will present reports for 2019.
There are two vacancies for the Board of Directors. The nominees are Myron Burns and Mitch Marolf. Myron Burns, currently Chairman of the Board, began his service on the Supervisory Committee in 2005. In 2007 he was appointed to the Board to fill a vacant seat. Burns is the President/CEO of Canton-based Ray Burns and Sons Trucking Inc. He has been part of the family business for over 45 years. He is a certified flight instructor at the Massena International Airport at Richards Field. Burns resides in Waddington. Mitch Marolf, currently Vice Chairman of the Board, became a volunteer for SeaComm in 2007 serving on the Supervisory Committee. He was appointed to the Board of Directors in 2008, filling a vacant seat. Marolf is now retired after working a combined 48 years through P&C in Massena and Price Chopper Operating Company Incorporated. He is a graduate of Lowville Academy and attended Hillsdale College, Hillsdale MI. Marolf resides in Louisville.
If any member wishes to run for a vacancy, nominating petitions and instructions are available through Tammy Harrigan at SeaComm's 30 Stearns Street, Massena location. The petitions must be signed by one percent of the members; all primary owners of an account and 18 years of age or older. Petitions and pertinent paperwork must be returned to Ms. Harrigan at the 30 Stearns Street location by 5:00 p.m., April 9, 2020. If no petitions are filed for a vacancy, there will be no nominations from the floor, or any election for that vacancy at the Annual Meeting.
A complete list of candidates will be posted in a conspicuous place in the credit union offices along with qualifications and biographical data on those nominated. The election, if required, shall be determined by plurality vote and shall be by ballot.
Nominating Committee Selects Incumbents:
Board of Directors

Myron Byrns - Chairman
Mitch Marolf - Vice Chairman
Gary Fuller - Secretary
Keith Edwards - Treasurer
Patricia Dodge - Director
Wayne Duso - Director
Robert Santamoor - Director
Supervisory Committee

Thomas Hannan - Chairman
Thomas Sullivan - Secretary
Umesh Kumar - Member

---
Please... join us!
As a not-for-profit organization that is cooperatively owned by our members, the entire credit union benefits when our members engage and participate in their ownership. That's why we invite our members to attend our annual meeting each year. It's an opportunity for you to meet our management and elected Board and other volunteers, as well as many of the other employees who serve the membership. It's also an occasion that we use to report on the performance of our mutually-owned credit union and look ahead to the future.
"The credit union movement...it is a great movement, worthy of great deeds, deserving of great loyalty." -Edward Filene, Founder of the first credit union in the U.S.
Page 7
New Hire and Promotions
We're pleased to announce three internal promotions, as well as one new hire.
Sherry Thompson of Massena, has been promoted to Senior Vice President of Loan Operations and Risk Management. She oversees payment operations, mortgage and indirect lending, member business lending, resolution and risk. In her new role, Thompson provides direction for the credit union's overall loan portfolio and development, as well as evaluate and apply policies and procedures for the lending areas. Prior to taking on her new duties, Thompson was the Vice President of Retail Operations for 12 years. She has been with the credit union since 1990, and has spent the majority of her SeaComm career in lending.
Rick Maloney of Constable, has been promoted to Vice President of Retail Operations, taking over the duties left vacant by Thompson's internal move. Maloney has been with SeaComm since October of 1997, initially being hired as head teller for the Malone branch. He was later promoted to branch manager in 2009 for the Malone location and fulfilled those duties up until his recent move to SeaComm's headquarters in Massena. As Vice President of Retail Operations, Maloney is responsible for the member experience of all retail branches and call center operations, strategic integration, management and flow of all current and future branch locations.
Christine Marshall of North Bangor is now the Branch Manager for SeaComm's Malone location. Marshall started her SeaComm career in December of 1999, working part-time out of the Massena location. She accepted a full-time position at the Malone branch in 2001. Marshall moved through the ranks of the branch as a financial service representative, and then promoted to assistant branch manager in 2011. Her promotion to branch manager makes her responsible for the direct operation, function and continued success of the branch.
Emily Bristol of Colton has been hired as SeaComm's Member Business Loan Officer based in Massena. A commercial loan and mortgage officer, Bristol brings experience in loan underwriting, real estate analysis, cash flow and profitability modeling. Bristol is a 2008 graduate of SUNY Canton with an A.A.S. degree in Liberal Arts. She also carries an A.A.S. in Criminal Justice Administration. She is currently enrolled in the St. Lawrence Leadership Institute through SUNY Potsdam. As one of SeaComm's member business loan officers, Bristol is responsible to develop new business relationships as well as underwrite and structure commercial loan opportunities.
---
Going out of town? Let us know!
Be sure to let a SeaComm representative know about your travel plans...to avoid any interruptions and to safeguard your accounts!
Call us at (800) 764-0566 or visit your local SeaComm branch.
SeaComm will be closed for:
Memorial Day - Saturday, May 23rd and Monday, May 25th
Independence Day - Saturday, July 4th
Labor Day - Saturday, September 5th and Monday, September 7th
Page 8
Talk with Scott Wilson
Once per quarter, the President/CEO will come to you! Below are the scheduled dates for the remainder of the year.
Malone Branch - March 26th
Plattsburgh Branch - June 11th
Canton Branch - September 24th
South Burlington Branch - November 5th
All sessions will run 11:00am to noon.
Follow him on Twitter (twitter.com/@SeaCommCEO) and Instagram (Instagram/@SeaCommCEO)
---
Message from the President and Chief Executive Officer
Market diversification continues to be a long-term strategic goal of the Credit Union and one that has been emphasized by our Board of Directors for the approval for expansion into Vermont. This January we made strides to continue to meet this goal when we opened our first of three retail branches in South Burlington, VT. You can read more about it on page two of this publication. We are in the planning stages for our second branch in Essex, VT for this fall. Our third location will be in 2021 in St. Albans, VT. In order to continue SeaComm's success, it is necessary to garner new members.
Today, SeaComm has a significant market share penetration in its current field of membership. New opportunity in a region which has been economically flat will over time make growth a challenge. Our strategy is to continue to diversify the markets in which we do business. This diversification will enable SeaComm to withstand certain economic anomalies which have or could be market specific. Our retail branch in Plattsburgh, NY, is continuing to grow and, after more than two years in operation, has proven to be an excellent location.
The Board of Directors in their decision-making process is committed to the fact that the exceptional member service our current members have come to expect will remain at the highest level as part of this planned expansion. SeaComm is also committed to staying true to our mission. In fact, to solidify that position, the Board, myself and the senior leadership team continue to make this part of our regular agenda for ongoing strategic planning discussions.
The Credit Union continues to be positioned for growth. Our retained earnings have continued to keep pace with our asset growth and we have an excellent capital position. This expansion will enable our Credit Union to grow and be financially sustainable well into the future.
Even though we are heading into new markets, we are still committed to our intended mission; and will be forever committed to our roots of taking care of all our members. It all started fifty-seven years ago in that iconic toolbox, and our focus on the details will ensure we stay consistent with those humble beginnings.
Financial Strength
Our financial position continues to remain solid. Year-end assets climbed in excess of $570 million, an annual growth of 4% year-to-date. At the same time, our net operating expenses YTD were at 2.12%, well below our goal of 3%. We finished the year with a net income of $6.2 million, garnering us more than $89 million in total equity. Capital remains a key component to our financial health, as it is necessary to maintain adequate reserves as our assets continue to grow. It ensures that we are able to withstand any uncertainty such as we encountered during the earlier part of the last decade. A new capital requirement has been approved by the NCUA Board and will be fully implemented by January 1, 2022. We are well positioned for that change.
We acknowledge that our excellent results also stem from effective margin and balance sheet management with a strong emphasis on expense control. We are constantly looking for ways to diversify our non-interest income streams as well. Our Personal Financial Advisor Services, which are available to any SeaComm member, continues to grow. Today, more than $37 million are under management.
Our financial strength continues to be nationally recognized. BauerFinancial, an independent rating company recently awarded us their Superior Five-Stars. They analyze the performance of U.S. Banks and Credit Unions. The star ratings classify each credit union based upon a complex formula which factors in relevant data including, but not limited to: capital, historical trends, loan delinquencies, differences in the book and market values of the investment portfolio, profitability, repossessed assets, reserves, charge-offs, regulatory compliance and asset quality. It has deemed SeaComm as safe, financially sound and we are operating well above their regulatory capital requirements.
Service & Our People a Key Focus
Our focus has been offering our members a compelling value. From the time they walk into one of our branches, phone into our Call Center or log in at one of our mobile delivery platforms, we want the experience to exceed their expectations. We do not take that lightly. In fact, we obsess over it. We believe so much in member satisfaction, that on a monthly basis, random surveys are sent out to members who have conducted some sort of transaction at the Credit Union. This can be as simple as a balance inquiry to applying for a loan. Whatever the circumstance, we want feedback on how the member was treated and if we did everything necessary to make them feel valued. The survey results are reviewed by everyone on the management team that is responsible for the retail area, as well as by the senior leadership team and me. If we do find areas where there needs to be improvement, we ensure that changes are made. The only way we can improve our delivery experience is if someone tells us where changes need to happen.
At the end of each year, we calculate the overall average of every employee who received surveys on their delivery of service both externally and internally.
The top ten were Jeff Reynolds (2 consecutive years), Wanda Lanning, Rose Lapoint-Matthews (7 consecutive years), Erica Horan and Laurie French, Kim Holloway (2 consecutive years), Melissa Cree (3 consecutive years), Tab Ladison (3 consecutive years), Wendy Vatter (3 consecutive years) and Kathy Dunkleberg were recognized for their high achievement in this area. We are extremely proud of those individuals and the work all of our employees perform and their consistency in delivering exceptional member service.
We know why SeaComm is so successful. We have a talented, smart, hard-working staff, which take great pride in their work of serving our members. We do have high expectations and are committed to maintaining that standard, moreover, we are incredibly fortunate to have dedicated employees who live our mission of "people helping people".
In mid-January, we received notification that we had been chosen for a tenth year in a row as one of the Best Companies to Work for in New York for 2020. Our selection as one of the top mid-sized companies is based upon a confidential written survey in which our employees were asked to participate, along with requested criteria we had to provide. A few of the focus areas included role satisfaction, leadership and planning, work environment, corporate culture and communication, as well as relationship with supervisor. We are extremely proud to be included within this privileged group.
Community Service
We do a tremendous amount for the communities in which we do business. Direct financial support and giving of our time through our "Do Some Good" program. The senior leadership team and myself make ourselves available twice a year to assist our local "Back the Pack" program, which during the school year offer snacks to tide students through the weekend. We are very proud to be a part of such a wonderful and important mission-driven organization.
On behalf of the Board of Directors, management and staff, we are grateful to our more than 48,500 members who have put their trust in us and we will continue to work diligently to remain strong in order to be able to serve you well into the future.
Respectfully submitted,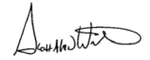 Scott A. Wilson
President and Chief Executive Officer

---
New Services
What's Next?
Members may have already been enjoying one of our newest product features launched this past fall "Loan Engine". This is a proactive approach to providing pre-approved loan opportunities via our NetTeller, email and direct mail, whereby members are notified of what we have to offer and then all they need to do is accept one of the offers with a click of a button or a simple phone call. We understand how busy everyone can be and this new platform allows us to make it easy for members to pre-plan their next auto or recreational vehicle to name just two.
Sometimes we miss the mark. Last fall we announced the addition of a new instant issue credit card platform. This would enable our members to come in, get approved for a credit card, and walk out with one the very same day. This would also assist our members who have had their cards compromised, so they do not have to wait 10 business days for a new one to arrive in the mail. We already have this on our debit card platform. Unfortunately, this has been delayed, but I am here to assure you this will be launched this spring.
---
Listen to Scott's most recent podcasts for the latest financial news and updates! Find it online at www.seacomm.org.
Page 10
You're in the Spotlight!
In support of local business members, SeaComm highlights small business owner stories in the quarterly business newsletter called "Your Bottom Line." Here are the recaps of third and fourth quarters of 2019.
Polished From Head to Toe - Peru, New York
Randi Walton's business journey started with her love of art. Randi had made the decision to change her path of becoming an art teacher, and instead pursued a career as a hair artist and business owner. She attended the Champlain Valley Technical Education Center (CV-Tec) in Plattsburgh, NY for Cosmetology. After graduating from CV-Tec Randi spent 7-8 years working at other salons before taking the jump into owning her own business. In 2015, a partnership with one of her clients lead to an opportunity that allowed Randi to open her own salon. Polished from Head to Toe was born in October of 2015 in a building that was previously a showroom in Peru, NY. Randi's talent and love for art assisted her in the designing and renovation of the building with a style described as "Hollywood Glam," with a few rustic cabin touches that pay homage to the Adirondacks located nearby. Shortly after opening, in January 2016 Randi had to add staff to accommodate the growing amount of customers. In the years since then the business has only expanded more. Boasting excellent reviews online, and an increasing wait list, Polished from Head to Toe serves customer from Albany to Vermont. Currently, Randi has an esthetician and three hair stylists on staff and is adding a fourth this fall.
Polished from Head to Toe offers a wide range of services including: an all-natural spray tan with a VersaPro Spray Booth, hair services plus hair extensions, make-up, manicures, pedicures, facials, Microdermabrasion, and corrective paramedical permanent makeup. When asked about how she started with SeaComm, Randi states that she had a connection with Yvonne Alterie, the Plattsburgh Branch Manager, and had only heard good things about SeaComm. She soon discovered all of the rumors were true as she describes working with SeaComm as easy, accommodating, and stress free. To book an appointment or to inquire about the services offered at Polished from Head to Toe, please call (518) 643-0999. Be sure to follow them on Facebook @Polishedfromhead2toe.
---
3 Bears Gluten Free Bakery and Cafe - Potsdam, New York
Chris Durand, the owner of Three Bears Gluten Free Bakery, has had a wide range of experience working for many different companies. His favorite job would be that of making others laugh. As Cubby the Clown, Chris along with his wife and working partner Faye Ori, also known as Cuddles, have had illustrious careers as comic entertainers.
During one fateful event, Chris (as Cubby the Clown) was working a local party for children when he came across a child who was not able to participate in the enjoyment of the snacks provided at the event. After a quick discussion, Chris learned that the child was unable to eat all the treats because she had celiac disease. Chris was able to relate on a personal level as he also has celiac disease.
"Children shouldn't have to worry about food….They should just be children," he states. From that point on Chris and Faye gathered their means and put it towards the opening of a store. This soon led to the birth of the Three Bears Gluten Free Bakery in downtown Potsdam. The Three Bears Bakery serves a full menu with breakfast and lunch sandwiches, pizza, wings, soups, dinners and more. You can also enjoy sweet treats with standard flavors like death by chocolate, Reese's peanut butter brownies and even some exotic flavors. Faye is the creative force behind some of the delicious flavors such as 'Faye's Fusion', which is a peanut butter-chocolate chip cheesecake cupcake, swirled with chocolate cake and frosted with a peanut butter and cream cheese swirl.
In addition to Chris and Faye, the Three Bears boasts a terrific staff. "The staff is a dedicated and hardworking team," Chris says, adding that his biggest requirement for his staff "Is that they treat others with respect." The current hours are Monday and Tuesday 8:00am-5:00 pm, Wednesday and Thursday 8:00am-7:00 pm, and Friday and Saturday 8:00 am-8:00pm. The objective is to offer a nice atmosphere for everyone to be able to come to the café and to have a relaxing and pleasurable experience.
---
Let us Spotlight your business!
We are proud of our business members and want to share your story! Contact Jerry Manor for more information. Call (800) 764-0566 or email jmanor@seacomm.org
Page 11
Community Support
In December 2019, SeaComm contributed $50,000 to the Hope Lodge Program, which is part of the American Cancer Society. The large donation helped to provide free accommodations for cancer patients and their families, who must travel for treatment. SeaComm was proud to make a sizable contribution to a program that is equipped with dedicated volunteers and staff members who work to ensure a comfortable stay for guests as they make the journey toward a cure. This donation has directly benefited those who live in Northern New York and Vermont, many of which are SeaComm members!
Also in December, SeaComm presented the Help Sami Kick Cancer Foundation with a $22,500 donation to support renovations at The Lodge at Dreaming Tree Ranch. The ranch is a 200 acre property located on Wilkinson Road in Potsdam, which allows families who have received a pediatric cancer diagnosis to spend quality time in nature, and enjoy a retreat in the foothills of the Adirondack Mountains.
"The Lodge at Dreaming Tree Ranch's work is vital for families dealing with a pediatric cancer diagnosis," said SeaComm Board of Director Chairman Myron Burns. "Our North Country neighbors who are dealing with an unfortunate illness are blessed to have this respite available to them. We are pleased to be part of this absolutely wonderful location, by providing financial assistance to see that its mission continues, and the comfort it provides."
In January 2020, SeaComm presented a check for $15,000 to the Back the Pack Program of Massena. The Back the Pack Program provides healthy meals to less fortunate children at all four elementary schools in Massena. The program continues to operate through donations and community support. "We really appreciate the help of SeaComm and the rest of our community," said Back the Pack Committee Chairperson Julianne Paquin. "The ongoing support from SeaComm has made our program the success that it is."
Last year, SeaComm gave more than $376,000 in donations and sponsorships. These contributions included pledge donations to local hospitals, scholarship endowments for local students, and even monetary gifts to our local fire departments, neighborhood centers, toy drives, and community festivals. In 2019, SeaComm made a substantial number of contributions to help empower our communities, and improve the lives of our members. We believe that regardless of SeaComm's considerable growth over recent years, we will never forget our roots!
---
Why Should You Finance Your Next Auto Loan At SeaComm?
Getting an auto loan with SeaComm is a unique experience. Why? Because we exist to serve your best interest.
When you walk into SeaComm with the intention of taking out an auto loan, you'll be dealing with people who know who you are and what your financial reality is like. No one will try to push you into a loan you can't afford.
The process of applying for a SeaComm auto loan is simple, quick, and easy. One of the biggest advantages you'll have when financing an auto loan through SeaComm is a lower APR*. Because you're working directly through us, you'll only hear the actual rate that we offer, instead of a marked-up rate the car dealer could potentially present to you.
Also, as member-owned and operated institutions, credit unions famously offer loan rates that are consistently lower than those offered by large lenders and banks. In fact, according to Bankrate, the average APR on a credit union auto loan in the beginning of 2019 was a full point lower than the rates offered by banks! Remember, we also offer Member Rewards to lower your best rate!
TIP: When you're shopping around for a new vehicle...be sure to use SeaComm's online auto buying center, GarageGizmo! You can browse through a variety of new and used vehicles, narrow down your search based on preferences, and even apply for a SeaComm auto loan, online!
*Annual Percentage Rate. Visit www.garagegizmo.org to begin your search!
Page 12
SeaComm's Personal Financial Advisor Services
The SECURE Act
Long-Established Retirement Rules Change.
The Setting Every Community Up for Retirement Enhancement (SECURE) Act is now law. With it, comes some of the biggest changes to retirement savings law in recent years. While the new rules don't appear to amount to a massive upheaval, the SECURE Act will require a change in strategy for many Americans. For others, it may reveal new opportunities.
Limits on Stretch IRAs: The legislation "modifies" the required minimum distribution rules in regard to defined contribution plans and Individual Retirement Account (IRA) balances upon the death of the account owner. Under the new rules, distributions to non-spouse beneficiaries are generally required to be distributed by the end of the 10th calendar year following the year of the account owner's death.
It's important to highlight that the new rule does not require the non-spouse beneficiary to take withdrawals during the 10-year period. But all the money must be withdrawn by the end of the 10th calendar year following the inheritance.
Let's say that a person has a hypothetical $1 million IRA. Under the new law, your non-spouse beneficiary may want to consider taking at least $100,000 a year for 10 years regardless of their age. For example, say you are leaving your IRA to a 50-year-old child. They must take all the money from the IRA by the time they reach age 61. Prior to the rule change, a 50-year-old child could "stretch" the money over their expected lifetime, or roughly 30 more years.
IRA Contributions and Distributions: Another major change is the removal of the age limit for traditional IRA contributions. Before the SECURE Act, you were required to stop making contributions at age 70½. Now, you can continue to make contributions as long as you meet the earned-income requirement.
Also, as part of the Act, you are mandated to begin taking required minimum distributions (RMDs) from a traditional IRA at age 72, an increase from the prior 70½. Allowing money to remain in a tax-deferred account for an additional 18 months (before needing to take an RMD) may alter some previous projections of your retirement income. The SECURE Act's rule change for RMDs only affects Americans turning 70½ in 2020. For these taxpayers, RMDs will become mandatory at age 72. If you meet this criterion, your first RMD won't be necessary until April 1 of the year after you reach 72.
Multiple Employer Retirement Plans for Small Business: In terms of wide-ranging potential, the SECURE Act may offer its biggest change in the realm of multi-employer retirement plans. Previously, multiple employer plans were only open to employers within the same field or sharing some other "common characteristics." Now, small businesses have the opportunity to buy into larger plans alongside other small businesses, without the prior limitations. This opens small businesses to a much wider field of options.
While the SECURE Act represents some of the most significant changes we have seen to the laws governing financial saving for retirement, it's important to remember that these changes have been anticipated for a while now.
If you have questions or concerns, reach out to your trusted financial professionals, David Brown or Mathew Hastings, at your nearest SeaComm branch location.
This material was prepared by MarketingPro, Inc., and does not necessarily represent the views of the presenting party, nor their affiliates. This information has been derived from sources believed to be accurate. Please note - investing involves risk, and past performance is no guarantee of future results. The publisher is not engaged in rendering legal, accounting or other professional services. If assistance is needed, the reader is advised to engage the services of a competent professional. This information should not be construed as investment, tax or legal advice and may not be relied on for the purpose of avoiding any Federal tax penalty. This is neither a solicitation nor recommendation to purchase or sell any investment or insurance product or service, and should not be relied upon as such. All indices are unmanaged and are not illustrative of any particular investment.
Securities sold, advisory services offered through CUNA Brokerage Services, Inc. (CBSI), member FINRA/SIPC, a registered broker/ dealer and investment advisor. CBSI is under contract with the financial institution to make securities available to members. Not NCUA/NCUSIF/FDIC insured, May Lose Value, No Financial Institution Guarantee. Not a deposit of any financial institution. CUNA Brokerage Services, Inc., is a registered broker/dealer in all fifty states of the United States of America.
---
Mathew J. Hastings
Personal Financial Advisor
Office: 315-764-0566 ext. 555
Toll Free: 800-764-0566 ext. 555
Mobile: 315-296-5188
Email: Mathew.Hastings@cunamutual.com
Location: Massena
David C. Brown
Personal Financial Advisor
Office: 315-764-0566 ext. 804
Toll Free: 800-764-0566 ext. 804
Email: David.C.Brown@cunamutual.com
Location: Plattsburgh & South Burlington
Jared Hollander
Personal Financial Advisor Services Specialist
Office: 315-764-0566 ext. 507
Toll Free: 800-764-0566 ext. 507
Email: jhollander@seacomm.org
Location: Massena
Page 13
Are You About to Hit a Financial Setback?Here's what you need to know...
For millions of Americans, an unexpected financial setback can make it feel like your world is caving in around you. If you or a loved one has been affected by a recent setback, it's important to know that you are not alone and that everything is going to be okay.
In partnership with SeaComm, GreenPath Financial Wellness offers the steps below to support you in setting a plan for your expenses:
Step 1: List Out and Prioritize Your Expenses
The first thing to do is understand your overall financial situation so you can get an idea of what you need to pay and what you have to work with. Use GreenPath's budgeting worksheet to list out your expenses and due dates. When prioritizing which bills you should pay first, begin with basic needs (shelter, food, heat, lights).
Once you've taken care of yourself, attend to your debts in order of priority. While threats of a low credit score or calls from a debt collector can be intimidating, it's important to focus on paying down debts with collateral (something that can be taken from you) such as a house or car payment. After your financial setback passes, you can work on catching up with unsecured debts like credit cards, internet, and cable bills.
Step 2: Open Lines of Communication
Talk to your lenders or creditors to see if there is anything you can do regarding upcoming bills. Many utility companies also offer utility payment plans for people with financial hardships.
Step 3: Look for Ways to Generate Cash, And Cut Spending Where Possible
During your financial setback, you can look for ways to earn extra income such as selling unused items, offering ride share services or performing freelance work or odd jobs.
In addition to finding additional sources of money, evaluate your current spending habits to see where you may be able to make adjustments to spend less: set a strategy to save money on groceries, see if you can freeze your gym membership, reduce your cable bill, lower your energy usage, and cut any non-essential spending you can such as entertainment and eating out.
Step 4: Call GreenPath
A nonprofit team of certified financial and housing counselors, GreenPath is here for you. We offer compassionate, judgment-free coaching and can support you to make a plan for the future to ensure you are prepared for life's curve balls. Contact us today!
To use this service, simply call 1-800-550-1961. Email customerservice@greeenpath.com or visit them online at www.greenpath.com.
GreenPath financial wellnessEmpowering people to lead financially healthy lives.
Page 14
Weekly Wave Blog
Over 1,000 subscribers and growing! Follow our WEEKLY WAVE Blog for helpful tips and tricks for living on a budget... and having fun doing it!
As a subscriber, you will be sent blog posts three times per week... which includes a variety of topics such as; ways to save at the movie theater, tips to eat healthy on a budget, rules for saving on every purchase, steps to follow after you've been affected by a data breach...and much more!
Subscribe at seacommblog.com
---
Text the keyword SEACOMM to (844) 573-2533
Opt-in to our text message marketing program to stay up to date on our most exciting news and important information!
---
Shirley J. Eagles Scholarship 2020
The Shirley J. Eagles Scholarship applications will be made available on our SeaComm website beginning March 2, 2020. Application submission deadline will be Friday, May 1, 2020 by 5:00 p.m.
If you are a parent or legal guardian of a graduating, college-bound high school senior and have an account with the credit union, or your child has an account with the credit union, we welcome them to apply!
SeaComm will be awarding $500 scholarships to fifteen (15) students. We wish all of our applicants the best of luck!
Please visit www.seacomm.org for further qualifying instructions and to download the scholarship application on or after 3/2/20. If you have any questions, please contact our call center to inquire.
---
The 2020 fee schedule can be viewed at www.seacomm.org. Fees are immediate for new membership and effective February 1, 2020 for existing members. All fees are subject to change as the economy dictates.
Page 15
Financials
Click here to view the Income Statement, as printed in the newsletter.
Click here to view the Statement of Condition, as printed in the newsletter.
Page 16
SeaComm
30 Stearns St
Massena, NY 13662
SmartLine: (315) 769-5821 or 1 (866) 769-5821
Website/NetTeller™: www.seacomm.org
Locations
Headquarters
30 Stearns Street
Massena, NY 13662
(315) 764-0566
Fax: (315) 764-0152
Monday-Thursday 8am-5pm
Friday 8am-6pm
Saturday 9am-noon
Drive-up opens:
Mon-Fri. 7:30am; Sat. 8:30am
Potsdam Branch
6 Sisson Street
Potsdam, NY 13676
(315) 764-0566
Fax: (315) 265-1456
Monday-Thursday 8am-5pm
Friday 8am-6pm
Saturday 9am-noon
Drive-up opens:
Mon-Fri. 8am; Sat. 8:30am
Malone Branch
3349 Route 11
Malone, NY 12953
(315) 764-0566
Fax: (518) 483-7751
Monday-Thursday 8am-5pm
Friday 8am-6pm
Saturday 9am-noon
Drive-up opens:
Mon-Fri. 8am; Sat. 8:30am
Canton Branch
101 East Main Street
Canton, NY 13617
(315) 764-0566
Fax: (315) 379-9809
Monday-Thursday 8am-5pm
Friday 8am-6pm
Saturday 9am-noon
Drive-up opens:
Mon-Fri. 7:30am; Sat. 8:30am
Ogdensburg Branch
3001 Ford Street Extension
Ogdensburg, NY 13669
(315) 764-0566
Fax: (315) 394-0449
Monday-Thursday 8am-5pm
Friday 8am-6pm
Saturday Closed
Plattsburgh Branch
139 Smithfield Blvd
Plattsburgh, NY 12901
(315) 764-0566
Fax: (518) 324-0567
Monday-Thursday 8am-5pm
Friday 8am-6pm
Saturday 9am-noon
Drive-up opens:
Mon-Fri. 8am; Sat. 8:30am
South Burlington Branch
1680 Shelburne Road
South Burlington, VT 05403
(315) 764-0566
Fax: (802) 497-2569
Monday-Thursday 8am-5pm
Friday 8am-6pm
Saturday Closed
This publication does not constitute legal, accounting or other professional advice. Although it is intended to be accurate, neither the publisher nor any other party assumes liability for loss or damage due to reliance on this material.
©2020 SeaComm Federal Credit Union